Campbell River RCMP Community update - March 22nd, 2022
Campbell River
2022-03-23 00:05 PDT
As of March 22nd, 2022, the Campbell River RCMP had responded to 3419 calls for service for the year to date. The 2021 numbers for the same date were slightly less at 3401 calls for service.
When community works:
Three calls for service on March 21st and March 22nd, 2022, truly demonstrate how important community is to the work police do and the successes they can achieve with safe and responsible involvement from community members.
2022-3372 Prohibited driving:
The RCMP were called to a report of a male passed out in his vehicle at the intersection of Island Highway and Willow street in Campbell River shortly before 8:00 pm on March 21st. 2022.
Concerned members of the public rendered medical aid to the individual and guided the car, which was still running, into a safe resting locale to avoid any collisions.
The driver was treated at the scene by emergency medical services of the Campbell River Fire Department and BC Ambulance Services.
During the course of the investigation of the incident, police were able to determine that the driver of the vehicle was prohibited and the vehicle was impounded.
Police further investigated the driver's state and will be recommending charges of Impaired Operation of a Motor Vehicle by drug.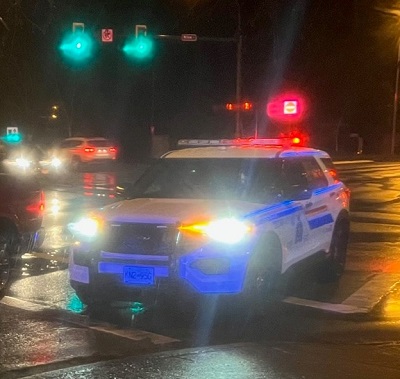 (Police cruiser on scene at Willow Street and Island Highway in Campbell River)

2022-3382 Theft from moored vessels:

At 2:00 am on March 22nd, 2022, Campbell River RCMP were notified by a community member that two males in all black had just departed the docks by the BC Ferry terminal carrying fishing rods and they believed the items were stolen from boats down at the dock.

Members were responding to multiple calls in the community at the time, including an impaired driving investigation, a breach of probation investigation, and a missing person's investigation. With the other calls ongoing, only one officer could be freed up into the downtown core to seek out the suspected thieves.

The officer was able to flag down members of the Footprints downtown security patrol who were also in the area and notify them that police were looking for two suspects with fishing rods.

Minutes later, the security patrol notified police that they saw the two suspects and the police officer was able to locate and detain the two men for a theft investigation. Quickly it was determined that both men had multiple outstanding warrants in the community and were taken into custody.

Approximately $2500 worth of fishing gear was also recovered and police are continuing the investigation into the alleged theft in order to recommend charges.

2022-3396 Impaired by drug investigation:

On March 22nd, 2022, Police were notified of a black Honda Civic that that had driven through a red light at Maple street and 16th avenue and then ran up on a curb.

Multiple other members of the public called in to report the same vehicle as it sideswiped several vehicles when it continued on in the area. The vehicle came to a stop on 16th avenue and a witness was able to maintain continuity of the driver in the vehicle until police could arrive.

An investigation into the 53 year old driver by a drug recognition expert indicated that the man was impaired by drugs and police will be recommending charges of Impaired Operation of a Motor Vehicle by drug.

It's so important to acknowledge the successes that policing achieves with the community's assistance, said Cst Maury Tyre. One, of the big messages we've really been trying to convey in the community is how important the eyes and ears of the citizens are in making a safer home for us all. We'd really like to thank everyone in the community that has become involved in efforts to make Campbell River safer.

If you wish to report a crime or have information about ongoing criminal activity, please contact the Campbell River RCMP at 250-286-6221 or in an emergency call 911.

Released by

Cst. Maury Tyre

Media Relations Officer
Campbell River RCMP
275 South Dogwood Street, Campbell River, BC V9W 8C8
Office: 250-286-6221
Cell: 250-895-1468
Fax: 250-286-3983


Email: maury.tyre@rcmp-grc.gc.ca

Follow Us: