Blue Heron flies again
Ridge Meadows
2023-03-30 14:48 HAP
Dossier nº Public Advisory
Pitt Meadows and Maple Ridge B.C. – The Road Safety Target Team (RSTT) cracked down on distracted driving in the Cities of Pitt Meadows and Maple Ridge this week.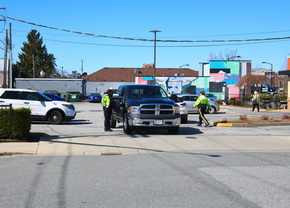 RSTT and the Integrated Road Safety Unit (IRSU) were kept busy identifying drivers using their phone while driving a motor vehicle in the cities of Pitt Meadows and Maple Ridge.
Project Blue Heron uses a scissor lift to get a bird's eye view of drivers and their vehicles.
On March 27, 2023, RSTT completed enforcement in Pitt Meadows in the area of Harris Rd and McMyn.
During their enforcement RSTT issued the following Violation tickets (VT's):
40 – use of cell phone
9 – no seat belt
2 – no 'N'
2 -no insurance.
On March 28, 2023, RSTT set up in the area of Lougheed Highway and 224th Street. During enforcement in this area drivers were issued the following VT's:
57 – use of cell phone
55 – no seat belts
19 – various offences
"This is a reminder to drivers that they need to leave their cell phone alone." States Corporal Eric Obermayer. "It is astounding how many people continue to text while driving despite the increase chance of a potential crash as a result."

Diffusé par :

Cap. Julie Klaussner

Agente des relations avec les médias
GRC de Ridge Meadows
11990, place Haney, Maple Ridge (C.-B.) V2X 9B8
Bureau : 604-467-7647


Courriel : julie.klaussner@rcmp-grc.gc.ca


Suivez-nous :