Police seek public's help identifying arson suspect
Richmond, Can You Identify
2023-05-25 09:38 PDT
File # 2023-9289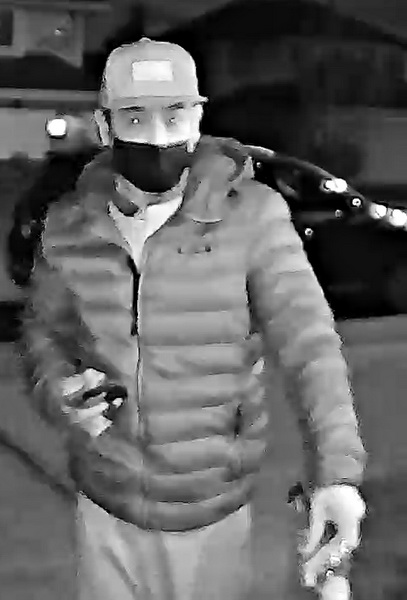 Richmond RCMP is seeking the public's help to identify a suspect after the front door of a residence was lit on fire in the early morning hours of March 27th.
Shortly before 3 a.m. on Monday, March 27th, 2023, Richmond RCMP frontline officers responded to a suspicious fire at a residence along the 4100 block of Bryson Place.
According to the 23-year old man who was home at the time, an unknown man poured flammable liquid on the front door to the residence, lit it on fire, then fled the scene. The resident was able to extinguish the fire which resulted in relatively minor damage.
Surveillance video captured the incident, and the suspect is described as:
Middle-aged Asian male
wearing a dark coloured surgical face mask, glasses, a baseball cap with a rectangular logo, and a long sleeved, hooded puffed jacket with an inscription on the upper left chest of the jacket.
The suspect may be associated to a four-door, dark coloured compact sedan, possibly a Hyundai or Toyota Corolla.
Richmond RCMP's General Investigation Section continues to investigate, but is asking for the public's help to identify the suspect.

Anyone with information on this matter is asked to contact Richmond RCMP at 604-278-1212, quoting Richmond RCMP file number 2023-9289. If you wish to remain anonymous, please call Crime Stoppers at 1-800-222-8477 or visit them online at www.solvecrime.ca.

Released by

Cpl. Ian Henderson

Media Relations Officer
Richmond RCMP
11411 No. 5 Road, Richmond, BC, V7A 4E8
Office: 604-207-4747
Cell: 604-765-4528


Email: richmond_media@rcmp-grc.gc.ca
Website: richmond.rcmp-grc.gc.ca

Follow Us: