Here's Some People on Santa's Naughty List - Surveillance Photos
Langley
2019-12-11 10:55 PST
File # 2019-40090, 40398, 40998, 41189, 41707, 43647, 43669, 43797 & 44179
Langley RCMP is seeking the assistance of the public with the following investigations:
2019-40398
It is alleged the pictured male stole liquor from the Willoughby Liquor Store on November 7th. He is described as Caucasian, in his 20's to early 30's and was wearing a black ball cap, a black hoodie, blue jeans and runners. He was seen leaving the parking lot on a 'rickety old black bike'.
2019-40998
A complete set of rims and tires (rims as pictured) were stolen from a vehicle at Willowbrook Chrysler overnight from November 11th to the 12th. The rims and tires are valued at approximately $20,000.
2019-41189
Police allege the pictured male and female stole two rifles (a T3X 243 Winchester and a 1022 Ruger) from a vehicle parked in an underground lot in Langley City between the 13th and 14th of November.
2019-41707
The pictured males are alleged to have broken into storage lockers in a residential condominium in Langley City on November 18th. Nearly $1000 in Christmas gifts were stolen.
2019-43647
The pictured woman is alleged to have stolen makeup from the Willowbrook Shopper's Drug Mart on December 2nd. She is described as Caucasian, 5'9, possibly in her mid-30's with reddish brown hair and a slightly heavier build. She was wearing a black toque, black jacket, a red sweater and black track pants with a stripe down the leg.
2019-43669
Police allege the pictured female stole electronic items and a pair of green boots from the Willowbrook Superstore on December 2nd.
2019-43797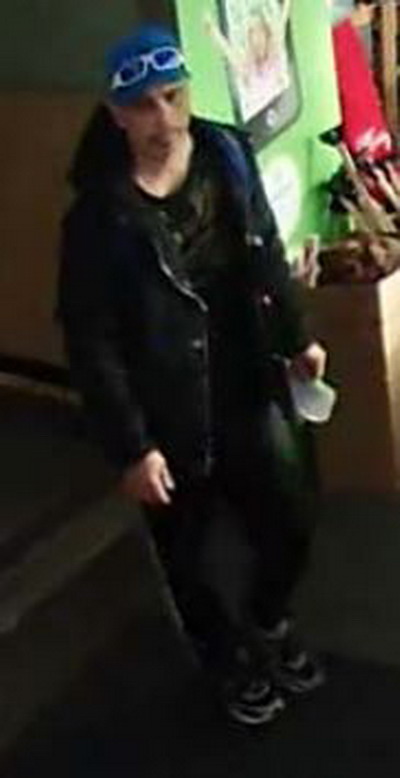 It is alleged the pictured male used counterfeit currency to make a purchase at the Willoughby Save on Foods on December 3rd. The male was wearing a blue Oakley baseball cap, white sunglasses, a black jacket, black shirt, black and white Adidas athletic pants and black and white Nike shoes. He was carrying a blue backpack.

2019-44179

Langley RCMP recovered a Dunk Tank and trailer left abandoned in the Willoughby area. Police database queries to find a stolen dunk tank have not been successful.

If you have information that might assist with any of the above investigations, please call Langley RCMP at 604-532-3200. Should you need to remain anonymous, please call CrimeStoppers:

There are two ways to leave an "anonymous tip" with Crime Stoppers.

Talk: 1-800-222-8477

Type: www.solvecrime.ca


Released by

Cpl. Holly Largy

Media Relations Officer
Langley RCMP Detachment - "Connected with our Community"
langley.rcmp-grc.gc.ca (English only)
22180 - 48A Avenue, Langley, BC V3A 8B7
Office: 604-532-3231
Cell: 778-991-7932
Fax: 604-532-3239


Email: holly.largy@rcmp-grc.gc.ca

Follow Us: