Happy November! - Surveillance Photos - Can you Identify?
Langley
2019-11-28 11:04 PST
File # 2019-39623, 41227, 41454, 41478, 41527, 41780, 42773 & 43119
Langley RCMP is seeking the assistance of the public with the following investigations:
2019-39623
Police allege the pictured male and female used a stolen credit card to make purchases at Home Depot and Shoppers Drug Mart on November 1st. Purchases were in excess of $3000.
2019-41227
Police allege the pictured male stole the bike he is riding from a bike rack at the Langley Library on November 14h. The male is described as Caucasian, approximately 45 years old with a brown beard and he was wearing a black Puma baseball hat, blue jeans, black coat, and grey hoodie.
2019-41454
It is alleged the pictured male stole various home goods from Superstore on November 15th.
2019-41478
The pictured male is alleged to have pushed a card into the rear passenger side of a vehicle in the Walmart parking lot on November 16th. The collision left a dent above the wheel well and the driver exited to check his vehicle. Once outside he was allegedly assaulted by the male pictured. The male was accompanied by a woman and the two left in a white Jeep.
2019-41527
Police allege the pictured female stole liquor from the Willoughby Liquor Store on November 16th. She allegedly took a case of vodka to a waiting male outside the store on a bicycle pulling a child carrier.
2019-41780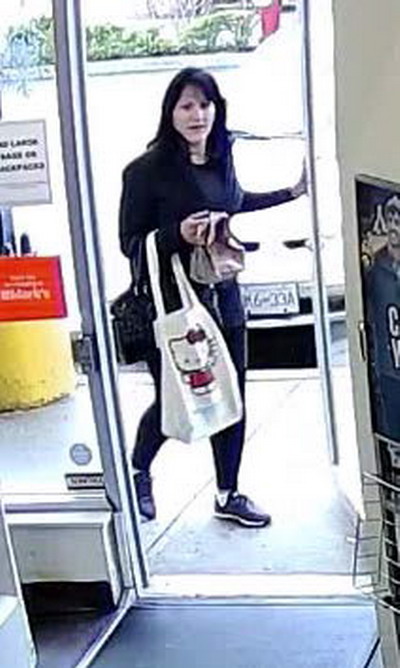 The pictured female is alleged to have stolen boots from the Aldergrove Mark's Work Wearhouse on November 18th. The woman is described as Caucasian in her mid-40's with black hair and bangs. She was wearing all black and had an approximately 8-year-old child with her.
2019-42773
It is alleged the pictured male stole a Dyson Vacuum worth nearly $1000 from the Best By on November 25th.
2019-43119
Police allege the pictured male assaulted a staff member at Shopper's Drug Mart in Willowbrook on November 28th by slapping her across the face.

If you have information that might assist with any of the above investigations, please call Langley RCMP at 604-532-3200. Should you need to remain anonymous, please call CrimeStoppers:

There are two ways to leave an "anonymous tip" with Crime Stoppers.

Talk: 1-800-222-8477

Type: www.solvecrime.ca


Released by

Cpl. Holly Largy

Media Relations Officer
Langley RCMP Detachment - "Connected with our Community"
langley.rcmp-grc.gc.ca (English only)
22180 - 48A Avenue, Langley, BC V3A 8B7
Office: 604-532-3231
Cell: 778-991-7932
Fax: 604-532-3239


Email: holly.largy@rcmp-grc.gc.ca

Follow Us: