Police seek suspect who deliberately damaged over 400 vehicles
Coquitlam, Can You Identify
2023-05-17 12:27 PDT
File # 2023-9099
Coquitlam RCMP is appealing for the public's assistance in identifying the suspect of a mischief series at the Journey Chrysler Jeep Dodge and Ram dealership located at 1300 Dominion Avenue and the Journey Approved dealership located at 1881 Lougheed Highway in Port Coquitlam.
Between January and April 2023, Police received three separate reports of mass car keying incidents at the Journey Chrysler car dealership in Port Coquitlam. Initial estimates indicate that close to 400 vehicles were damaged, including the exterior of one of the businesses resulting in over $500,000 in damage.
Video surveillance captured the lone suspect systematically damaging the vehicles within the car dealership lot.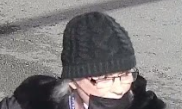 The suspect can be described as:
Caucasian female
40-50 years old
Shoulder-length blonde hair
Heavy build
The suspect can be described as wearing glasses, gloves, toque, and a surgical mask.
It is clear in the videos that the suspect was deliberately scratching the vehicles one-by-one, said Corporal Alexa Hodgins of the Coquitlam RCMP. Our investigators are continuing to follow up on any investigational leads, but are requesting the assistance from the public in identifying the suspect.
The suspect is believed to be driving a 2008-2013 Ford Escape.

The file has since been assumed by the Investigational Support Team (IST).

Police are asking anyone who has information, witnessed this incident or may recognize the suspect to contact the Coquitlam RCMP at 604-945-1550, and quote file number 2023-9099.

Released by

Cpl. Alexa Hodgins

Media Relations Officer
Coquitlam RCMP
2986 Guildford Way, Coquitlam, B.C V3B 7Y5
Office: 604-945-1580


Email: coquitlam_media@rcmp-grc.gc.ca
Website: coquitlam.rcmp-grc.gc.ca (English only)

Follow Us: