Join our officers at Coffee with a Cop
Coquitlam
2022-10-13 13:54 PDT
File # Public Announcement
Coquitlam RCMP is inviting the public to meet with officers at two Coffee with a Cop events in Coquitlam and Port Coquitlam in October.
After a more than two-year hiatus due to the pandemic, Coquitlam RCMP is bringing back Coffee with a Cop.
Coffee with a cop is a community policing initiative that aims at improving and strengthen police-public relations by bringing police officers, volunteers and community members together – over coffee.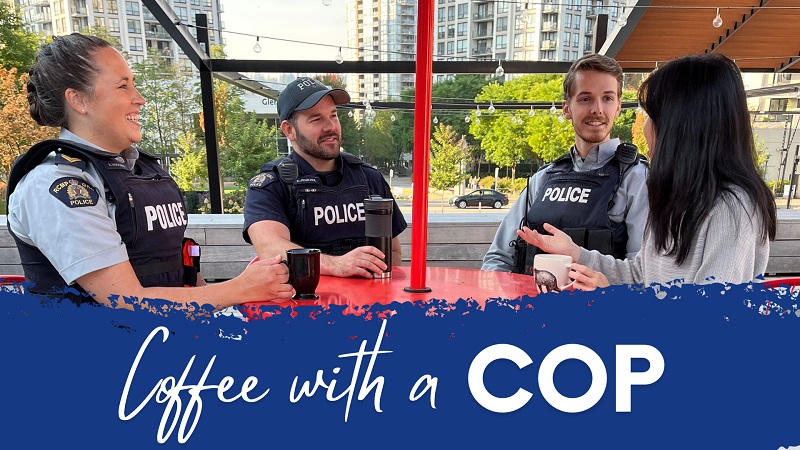 Do you have questions about what police do, or other questions about policing in Coquitlam? Are you interested in becoming a Police officer? This is your chance to ask those questions to some of the officers, volunteers and Coquitlam RCMP staff who work in your community.
Coffee with a cop
Coquitlam
Monday, October 24, 2022
Time: 10:00 a.m. to 12:00 p.m.
Location: Coffee + Vanilla at 1054 Austin Avenue, Coquitlam
Port Coquitlam
Tuesday, October 25, 2022
Time: 10:00 a.m. to 12:00 p.m.
Location: Cassandra Cake Co. at 105-2331 Marpole Avenue, Port Coquitlam
This is a great opportunity for members of the community to have organic conversations with Police, said Media Relations Officer for Coquitlam RCMP, Corporal Alexa Hodgins. We are looking forward to having more face-to-face conversations with the community again. Please come enjoy a coffee and meet with our officers.

Released by

Cpl. Alexa Hodgins

Media Relations Officer
Coquitlam RCMP
coquitlam.rcmp-grc.gc.ca (English only)
2986 Guildford Way, Coquitlam, B.C V3B 7Y5
Office: 604-945-1580


Email: coquitlam_media@rcmp-grc.gc.ca

Follow Us: