BC RCMP Federal Policing helps students get smart about crime
B.C., Federal Serious and Organized Crime
2022-09-20 09:00 PDT
As university students head back to class for the first semester of the new school year, criminals targeting them are also hard at work with a fresh set of fraud scams, cybercrime attacks, and deadly supply of illicit drugs. In countering this, the BC RCMP Federal Policing Prevention and Engagement (FPPE) unit is holding outreach events across university campuses to provide students with valuable information and resources that can assist them avoid falling victim to criminals.
On August 28, and September 6, 2022, BC RCMP FPPE members, Sgt. Raju Mitra, Cpl. Vinh Ngo, and Mr. Farid Salji of the Bank of Canada held outreach sessions at the 2022-2023 UBC Jump Start orientation days, and provided students and parents with resources about fraud prevention, cybercrime safety, illicit drugs, extortion scams, and counterfeit currency detection, among a host of other valuable resources and safety tips.
With an estimated total of over 10,000 attendees at both events, FPPE members spared no time or resources in connecting with as many students and parents as possible in order to provide them with information and resources that may assist in recognizing, and avoid being targeted by criminal activity throughout the academic year and beyond.
As concerned parents and members of the community, we, at BC RCMP Federal Policing also realize that we can't always be there to protect our children from dangers that lie ahead. Therefore, by way of initiatives such as these FPPE community engagements, we try to empower students through information, action plans, and the instilment of a sense of self reliance when faced with criminal threats, so they can independently and confidently navigate through life's challenges, said Superintendent Anick Pasqua, Officer in Charge of the BC RCMP Federal Serious and Organized Crime - Operational Support program (FSOC - OSG).
As students work hard to achieve academic success throughout the school year, the dedicated members of the BC RCMP Federal Policing FPPE team also continue to strive towards building a safer and stronger country by fostering competence, confidence, and resilience in young Canadians and the future leaders of our nation.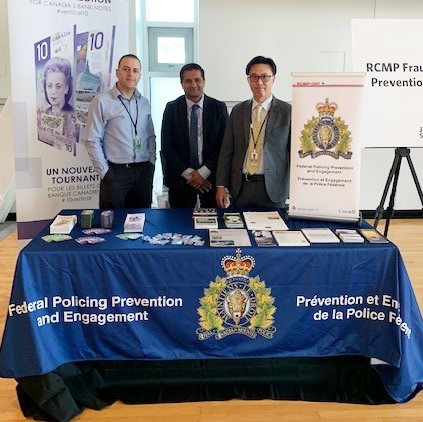 If you wish to report a crime, you may contact your local police agency, or remain anonymous by calling BC Crime Stoppers at 800-222-8477.

Released by

Cpl. Arash Seyed

Media Relations Officer
Federal Serious & Organized Crime (FSOC)
14200 Green Timbers Way, Surrey, B.C. V3T 6P3
Office: 778-290-4724
Fax: 778-290-6092


Email: bcfederalmedia@rcmp-grc.gc.ca


Follow Us: