Update on police enforcement operation near Lake Cowichan
Lake Cowichan
2022-06-29 16:30 PDT
After weeks of discussions with the Indigenous leaders from Ditidaht, Huu-ay-aht and Pacheedaht Nations, the RCMP attended the Haddon Main and Carrmanah Mainline Forest Service Roads near Lake Cowichan earlier today, on June 29, 2022, to remove the protest camp and blockade that was re-established there in early June. The impacted First Nations communities had made several unsuccessful but peaceful attempts over the past several months to have the group dismantle their camp and vacate the area to allow the lawful forest operations to resume.
The police enforcement began at approximately 8:30 a.m. when officers from the Community-Industry Enforcement Group's Quick Response Team (C-IRG QRT) encountered the group of protesters who were encamped on the forestry road. They were advised that enforcement will commence, and officers worked on dismantling the structures of the blockade after taking individuals into police custody.
Larger image of police officers forming outside the protest camp on the forestry road
Larger image of police officers at the entrance of the protest camp on the forestry road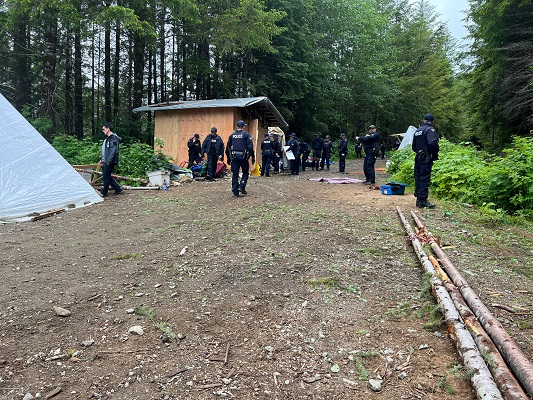 Larger image of police officers dismantling a building structure in the protest camp
Of note, there was a large amount of garbage and debris located within the encampment, and some flammable (gasoline) or dangerous materials that required proper and safe disposal. The Ministry of Forests have been engaged and are making arrangements to remove the piles of debris tomorrow.
Larger image of piles of garbage and debris
Once again, similar to other protest camps set up in the area over the last year, our officers had to haul massive amounts of garbage, debris and harmful chemicals from this encampment, says Chief Superintendent John Brewer, Gold Commander of the C-IRG. The environmental damage to the grounds they have caused is appalling.
A total of 5 individuals (4 women, 1 man) were arrested for breaching the injunction order (contempt of court) granted to Teal-Cedar Products Ltd. All were taken to the Lake Cowichan RCMP Detachment for processing. Of those arrested, one of the women and the man refused to identify themselves, and two of the women are repeat offenders under charge. As such, the four will be held in police custody overnight to appear before the court for a bail hearing.
The RCMP will continue their roving patrols in the Fairy Creek Watershed area and its corridors to ensure the forestry roads remain accessible and unobstructed, and that individuals are exercising their right to peaceful, lawful and safe protest within the terms set by the Supreme Court in the injunction.
Any further updates will be posted in the Lake Cowichan RCMP detachment website as and when available. Contact details for media inquiries and requests are provided below.

Released by:
BC RCMP Communication Services
778-290-2929
bcrcmp@rcmp-grc.gc.ca
Follow Us: