Update #78 on police enforcement of injunction order in Fairy Creek Watershed
B.C., Lake Cowichan
2021-08-19 20:00 PDT
Police enforcement of the BC Supreme Court injunction order in the Fairy Creek Watershed area continued today, on August 19, 2021, in the same area where officers have been primarily focussing their efforts for the past several days.
Individuals were once again found and removed from locking and tripod-like structures that are more complex in nature, and from piled logs and scrub across the road. Officers also supported and assisted more individuals who wished to leave the area.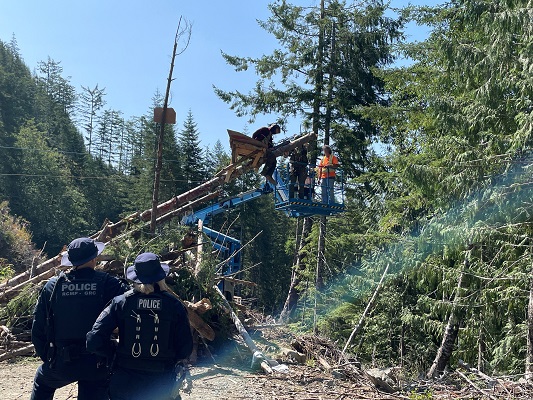 Larger image of tripod structure
Larger image of base of tripod structure
A total of 8 individuals were arrested today, all for breaching the injunction (contempt of court). They were processed and then released in Port Renfrew.
We would like to acknowledge that there are videos and comments which continue to circulate online of alleged police misconduct or excessive use of force in the course of their duties while arresting protesters, and of protesters receiving injuries as a result. We would caution anyone viewing these videos and reading comments to keep in mind that they do not capture the events and lengthy efforts (often hours) leading up to, or following the arrests or attempts of arrests of individuals.
A number of news release have been issued, beginning June 21st (Update #30), mentioning our concern for the unsafe and dangerous situations the protesters are placing themselves in. Over the recent few days, protesters have increased their tactics to even more dangerous levels such as digging and laying in deep trenches and erecting extremely complicated and unsafe tripods, forcing our officers to adjust the removal processes and techniques to deal with the new dangers.
Despite claims of inhumane treatment, our officers have taken many precautions to ensure that all protesters are removed from these devices as slowly and safely as possible. Safety equipment and pop-up tents or tarps are placed on individuals while they are being removed from their devices, which sometimes could be hours-long, and officers have been providing them with water or refilling their containers to ensure they are hydrated under the extreme heat conditions.
An ambulance is stationed nearby to ensure that anyone requiring urgent medical care can be transported out. We have also been providing medical assessments at several points during the removal and arrest processes. In fact, we have had numerous situation where medical assessment even by Emergency Health Services has been declined, and many instances where our officers have witnessed contemnors walk or run away after jumping off from tripods or unlocking from devices in order to evade arrest.
Our Media Relations Officers and Division Liaison Team members on site have worked and continue to support media and protester-appointed legal observers the opportunity to observe and report on arrests and provide support to arrested individuals as they are being made.
While many claim to have lodged complaints, to date we have not received any such official reports since enforcement began on May 17, 2021. Should any individual have concerns about the manner in which they were treated by any member of the RCMP there are complaints processes in place to voice their concerns, and social media posts or emails are not the proper way of submitting them. We would encourage people to go through the proper channels, rather than posting to social media, so that an investigation may be conducted.
A reminder that our actions and those of the individuals arrested will be subject to upcoming court proceedings, in which all available information and evidence will be brought before the courts.
There is a particular concerning allegation that a Pacheedaht youth sustained injuries after forcefully being removed by police from a tripod, says Chief Superintendent John Brewer, Gold Commander of the Community-Industry Response Group. Respecting that our enforcement is taking place in their traditional territories, our Division Liaison Team connected with Pacheedaht leadership to verify those allegations and they confirmed that the youth is not from the Pacheedaht Nation.
He adds that, we can also confirm that a criminal investigation has been launched into an even greater concerning report of an alleged recent attempt to lure three Pacheedaht children in Port Renfrew. A woman reported that two men and a woman, thought to be protesters that were dropped off in Port Renfrew after being arrested, asked the children, two aged 10 and one aged 13, if they would like to be brought to a good camping spot. Fortunately, the children did the right thing by refusing and then telling an adult who reported to the police. We will be looking intently into this very serious matter.
Since enforcement began, the RCMP have now arrested 698 individuals; 56 of whom were previously arrested with a combined total of 133 times. Of the total arrested, 524 were for breaching the injunction (contempt of court), 145 were for obstruction, 13 were for mischief, 6 were for breaching their release conditions, 5 were for assaulting a police officer, 2 were for failing to comply with a court order, 1 for counselling to resist arrest, 1 for causing a disturbance, and 1 wanted Canada-wide on warrants issued by Canada Border Services Agency (CBSA).
All news releases on the Fairy Creek Watershed police enforcement issued to date can be found on the Lake Cowichan RCMP Detachment website.
Released by:
BC RCMP Communication Services
Tel: 778-290-2929
Email: bcrcmp@rcmp-grc.gc.ca
Follow Us: