Fraudulent Call for Help from Family Members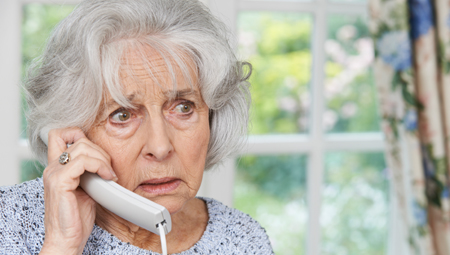 Grandparents are the primary target for this type of fraud.
The most common variation that's going on right now is where a person, usually an elderly person receives a phone call from somebody claiming to be a grandchild and claiming to be in some kind of distress...
Either:
they've been arrested,
they've been robbed,
they've been in an accident
and they need money sent right now.
The problem with this is that the caller really isn't the relative that they claim to be. The money that is sent goes to support the criminal lifestyle.
Often, the information the scammer needs is provided either through a internet website, a family geneology site, a Facebook page or simply by the victim themselves.
Automatically be suspicious of:
anyone asking for money,
be extra suspicious if the money is requested through a wire (which are difficult to track and almost impossible to recover).
Always verify identities with other family members.
---
Avoid being a Victim:
Ask for the name rather than offer it.
Ask for help from a member of your family or a trustworthy friend.
Verify identities or whereabout of the caller with other family members. No matter if they say "well you can't tell mom and dad".
Don't feel pressured to send money immediately.
Don't disclose personal financial information.
Call the Police.
Recognize It, Report It, Stop It.
If you think you or someone you know has been a victim of fraud, please contact the Canadian Anti-Fraud Centre at 1-888-495-8501 or
Canadian Anti-Fraud Centre
.