Can you identify this thief?
Fort St John, Can You Identify
2023-02-09 14:20 PST
File # 2023-1134
In the early hours of Monday, February 6, 2023, the Fort St John RCMP received a report of a commercial break and enter at A&W located at 9512 Alaska Rd North, Fort St John, BC.
Front-line police officers attended and obtained information that at approximately 3:20am, a single individual broke into the east side of the building, stole two cash registers and departed the same way they entered.

View larger photo – suspect entering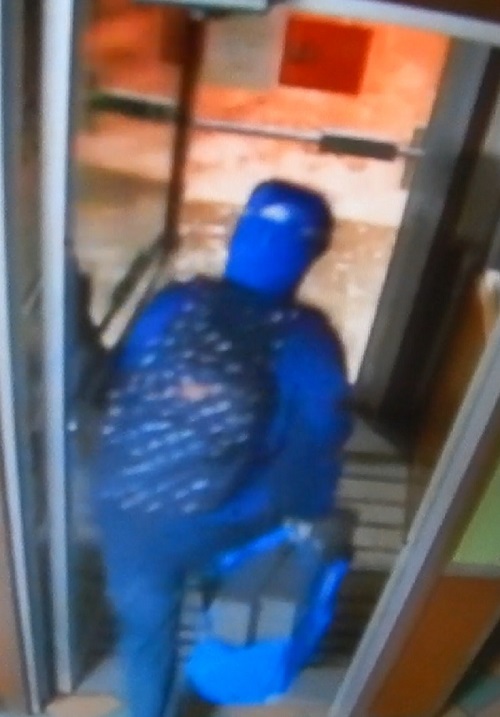 View larger photo – suspect leaving
The suspect is described as:
wearing a blue winter coat, blue jeans and blue runners,
wearing a darker blue backpack, carrying two stolen cash registers in a lighter blue bag.
If anyone observed the individual or has dash cam video of the area from around that time and location, please contact police, said Constable Chad Neustaeter, Media Relations Officer for the Fort St John RCMP.

The Fort St John RCMP continue to investigate and are asking anyone who has information in this matter to contact the Fort St John RCMP at 250-787-8100. Should you wish to remain anonymous, please call Crime Stoppers at 1-800-222-TIPS (8477) or submit a tip online at www.northernbccrimestoppers.ca.

Released by

Cst. Chad Neustaeter

Media Relations Officer
Fort St John RCMP
10648 100th St, Fort St John, BC, V1J 3Z6
Office: 250-787-8100
Fax: 250-787-8133


Email: chad.neustaeter@rcmp-grc.gc.ca


Follow Us: